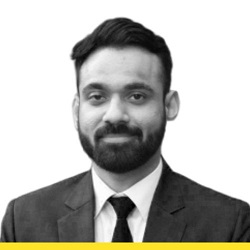 Challenge Yourself.
Kunal is the youngest partner and was honored with this title within 3 years of joining SCK. A young and confident professional who has proven to be a great asset for SCK and been pivotal in expanding operations in Western & Southern India.
Chartered Accountant with 5+ years of a demonstrated history of working in the fields

of Direct Taxation, International Taxation & Business Restructuring

Active member in providing valuable inputs to clients regarding Indian Corporate Laws & FEMA, Direct Tax, Inbound & Outbound Structuring, Permanent Establishment, Transfer Pricing, Business Restructuring etc., apart from other regulatory matters

Possess rich experience of working with clients ranging from start-up to multi-national companies spread across the globe, such as USA, Denmark, Japan etc. and across various sectors such as, Information Technology, Fashion & Apparel, Solar, Manufacturing etc.

Has independently handled complex litigation matters at various appellate forums both at New Delhi & Mumbai

Hold expertise in advising various start-ups on various complex technical matters and has acted as their trusted Financial Advisor in Growth

Prior to SCK, has worked with T.R. Chadha & Co.