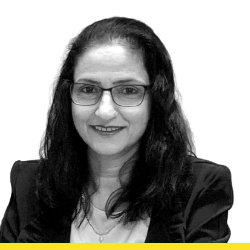 Keep Acquiring New Skills, you never know when you need them
Punita Ahuja, is CPA licensed in Virginia & North Carolina.
Punita Ahuja is fellow member of the Institute of Chartered Accountants of India and post qualification diploma holder in Insurance and Risk Management (DIRM) from ICAI, India. She is an intellectual, helpful and deeply endowed with people management skills and has 20+ years of experience and is a prodigious reservoir of knowledge to this profession. She has authored multiple books and is contributing articles related to profession.
Over the course of a potential buy out of my company, we approached Singhi Chugh & Kumar. They provided us with excellent first-class services, both on a professional and personal level with regards to Directorship obligations and liabilities to be aware off during the take-over. The firm went the extra mile to answer any questions and queries that came up, using specialists within the firm when required. One thing I never had to worry about was the integrity of the advice.
Sanjeev Sarin
Founder and CEO, Ozone Networks Ltd
Our local subsidiary, Riis Technologies India Ltd has a long and good cooperation with SCK. The co-operation with SCK began in 2010 when we founded Riis Technologies India Ltd. Since then SCK has been our local partner for payroll administration, bookkeeping, accounting, GST, taxes etc. and several ad hoc tasks. Over the years SCK has been invaluable several times in terms of making things happen! As a foreign Group, I can highly recommend SCK as the local partner in India
Tommy Trip
, RIIS Retail A/S
Really impressed by a thorough work on internal control paperwork by Singhi Chugh & Kumar, Chartered Accountants. thank you for the good work.
Gopal Sharma
CFO, NASSCOM
The long-term partnership with SCK has always been characterized by trust and professionalism. We value SCK's expertise, responsiveness and active support. As a globally acting company, we can always rely on SCK's local assistance as well as on cross-border advice.
Viktor Gauk
Head of Finance, Loyalty Prime GmbH
We have been asking consultation and auditing activities to Singhi Chugh & Kumar Chartered Accountants since we established the company in India.
They are a trusted partner to us and keep giving us appropriately and value-added service and advice continuously.
Yoshishige Satomi
, ㈱パーカーコーポレーション
Since I arrived in India, SCK exceeded my expectations. Their specialist team provided valuable support, advising on matters arising from their due diligence work and technical advice on tax aspects. I'd like to recommend you to select SCK as your specialist.
Keiichi Aoki
Director India Operations, Parker PCP Auto Components India Private Limited
Singhi Chugh & Kumar have been handling our account for many years. We are impressed by the team's expertise and understanding of our business. They provide us with expert advice in relation to our accounts, tax & statutory compliances. The team at SCK always guides us in a prompt and efficient manner
Viknesh Jain
Promoter Director, Euronics India Limited
M/S Singhi Chugh & Kumar (SCK) is associated with Ameriprise India since 2007. Over these years, SCK has provided us consultancy as well as facilitated compliance regarding matters pertaining to GST/ Service Tax/ ROC/ RBI/ tax deduction at source etc. You also helped us in the liquidation of one of our group companies, which a much larger firm was unable to do over a long period of time. In addition, whenever, we have needed any sort of certification or advice, your turnaround time has been par excellence
Manjul Grover
Vice President of Finance & Asset Management Operations, Ameriprise India LLP
M/s SCK is a distinctive accounting & consulting firm to work with. Have found them to be professional, value-adding & customer focused. I personally appreciate their availability at a short notice together with rapid response to our needs. We've utilized their services across a wide spectrum and they are very timely, detailed oriented plus cost-efficient. I recommend them for anyone seeking a comprehensive Professional Accounting Firm beyond the global Big 4.
Rajiv Kapahi
Sr. Director - India Hub : Finance, Operations & Distribution, Boston Scientific India Pvt. Ltd
It's the start of 2020 and I just wanted to let know that it's been great working with you all these years and we have been associated and developed a great partnership since 2012.II appreciate your firm's dedication and attention to details which have made things simpler for Boston Scientific India. Your reviews have allowed us to integrate several of our systems, further automating processes thereby reducing errors and improving efficiency. II wish you and your firm a great 2020 and loads of success.
Rahul Bagadia
Associate Finance Director, India Hub, Boston Scientific India Pvt. Ltd
I would like to sincerely appreciate your team's responsiveness and quality of services. The sound technical tax and compliances related knowledge you and your colleagues provide is commendable. It's been 2+ years of association with you and we are satisfied with your services till date. It's a pleasure to work with you and Kudos to the team for all hard work!
Mahender Chhabra
CFO, HMD India Private Limited
M/S Singhi Chugh &Kumar is associated with SINAR MAS group of Indonesia for more than a decade. Very creative, SCK has been very proactive in providing all tax-related services to the group. Very cooperative in providing consultancy at all times. Services have been par excellence.
Suresh Kilam
Director, Sinar Mas Group, Indonesia
We have shared a great partnership with Singhi Chugh & Kumar for almost a decade now and, they have successfully carried out our financial audits year on year. They truly understand the nature of our business and the team has consistently provided reliable insight and timely guidance which makes them a trusted and valued business partner. Their expertise in company act & income tax assessment coupled with great client service and value is hard to beat.
Vineet Gautam
CEO & Country Head, BESTSELLER India